The mood this Infrastructure Week was optimistic, with the timing perfectly sandwiched between two important meetings: the April 30th discussion between Democratic leaders in Congress and President Trump to discuss a $2 trillion investment solution and a scheduled next week to discuss funding solutions for this plan. Excitement was in the air from the DMV to Texas, Michigan, Oregon, and beyond. The theme of the 7th annual official Infrastructure Week, which started May 13 and goes through May 20, was #BuildForTomorrow, a hopeful message to the general public about preparing for the future. ASCE members, sections, and leadership took part in this national week of events, media coverage, education, and issue advocacy – which is designed to elevate infrastructure as a critical issue impacting America's economy, society, security and future. ASCE is a founding member of the Infrastructure Week steering committee.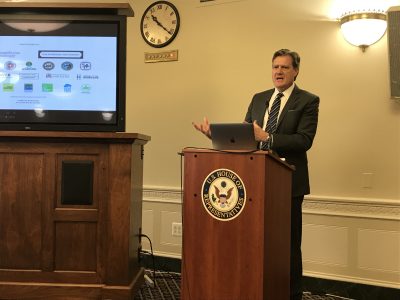 ASCE and City Parks Alliance Hold Congressional Briefing on Urban Parks Infrastructure
Over 80% of the nation's population lives in a city, and our nation's city parks, which are supported by a vast network of infrastructure systems, play an important role in spurring economic growth and development and creating more resilient communities with green infrastructure systems. However, despite the growing popularity of public parks and lands, chronic underfunding of our parks infrastructure continues to plague the system, threatening both the safety of these infrastructure systems and communities' economic stability. ASCE and City Parks Alliance held a Hill briefing titled "Our Parks Are Infrastructure," stressing that urban parks are critical infrastructure. Speakers included ASCE's Executive Director, Tom Smith; ASCE EWRI Member Dr. Robert Traver, P.E.; Congressman Mike Turner (R-OH); and City Parks Alliance Executive Director Catherine Nagel. Attendees of the session learned about the nexus of public parks and green stormwater infrastructure and the ancillary community benefits of green infrastructure; how investment in our parks is necessary in order to meet the needs of a growing population; and the critical role of public parks infrastructure in driving local economies and addressing transportation needs. ASCE's 2017 Infrastructure Report Card gave our nation's public parks infrastructure a grade of "D+." To help raise the public parks grade, this week ASCE endorsed H.R. 1334, the Outdoor Recreation Legacy Partnership Grant Program Act, a bipartisan bill introduced by our esteemed panelist, Rep. Mike Turner (R-OH) and Rep. Nannette Diaz Barragán (D-CA). The bill creates a dedicated source of funding of up to $25 million to expand outdoor recreation opportunities in urban communities and to promote the development of public-private partnerships for such projects.
Oregon Releases Infrastructure Report Card; State Receives a C-
During Infrastructure Week, ASCE released the Report Card for Oregon's Infrastructure, grading 10 categories of infrastructure including energy, drinking water, roads, bridges, and more. The grades were released at a press conference at the Oregon State Capitol in Salem Oregon, featuring remarks from Oregon Department of Transportation Director Matt Garrett, among others.
ASCE Texas Section Focuses on Resilience, Water Infrastructure During Southeastern Summit
One of ASCE's own, Carol Haddock, P.E., Director of Houston Public Works, and U.S. Water Alliance CEO Rhadika Fox kicked things off at the Summit with discussions on water infrastructure as a critical component to our economic and social prosperity. The conversations focused on resilience and recovery after the Hurricane Harvey devastation and the efforts to improve Houston's resiliency. The ask: encourage leaders to value and invest in water infrastructure.
Los Angeles Goes Under City Hall
The ASCE Los Angeles Section toured City Hall – one of the tallest base isolated structures in the world – to see the base isolation dampers with Structural Engineer Nabih Youssef. A Q&A with Mayor Garcetti's Director of Infrastructure, Liz Crosson, followed the tour.
The Role of Cleveland Ports: Transportation Industry Influence Roundtable and Media Tour
Next Monday is the final day of Infrastructure Week, and key stakeholders, including two ASCE Cleveland Section Members (Gina Beim and Ed Adamczyk), will take part in a roundtable discussion focusing on the transportation industry. An economic engine for the community, the Port is also a key to Northeast Ohio's global competitiveness, and a crucial partner in building Cuyahoga' County's future. The roundtable discussion will focus on the implications America's freight transportation system, including seaports, and its critical role in the economy. Federal investment in projects of national and regional significant has been insufficient, impacting the flow of goods to farmers, manufacturers, retailers, and consumers who need access to the global marketplace .The day will end by a bus and boat tour of the Port of Cleveland, one of the largest ports on the Great Lakes, where over 20,000 jobs and $3.5 billion in annual economic activity are tied to the roughly 13 million tons of cargo that move thr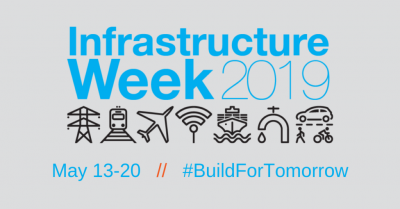 ough Cleveland Harbor each year.
For more information on the other events and more details about these events in which ASCE took part, go to InfrastructureWeek.org/Calendar.