President Eisenhower built the federal highway system. President Reagan and Congress later fixed it. Tomorrow, President Trump and Congress have a historic opportunity to revitalize America and bring our infrastructure into the 21st century. The American Society of Civil Engineers (ASCE) rated the overall condition of our nation's infrastructure a cumulative grade of D+ on the 2017 Infrastructure Report Card.
Additionally, Americ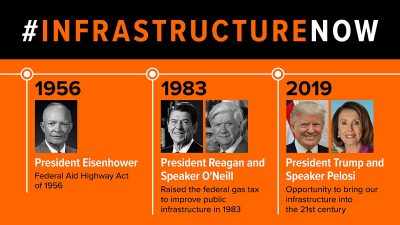 an families are paying $3,400 a year in personal disposable income due to poor, outdated infrastructure. We hope to see Congress and President Trump come together on funding solutions to modernize America's failing infrastructure.
Just to put it in perspective, in 2017, traffic delays cost the country $170 billion in wasted time and fuel – in addition to 6.9 billion hours delayed in traffic. That is 42 hours per year stuck in traffic. 45% of nation's highways are in poor condition, costing each motorist $616 per year in extra vehicle repairs and operating costs. It is also estimated that roadway features are likely a contributing factor in approximately one-third of traffic fatalities. There were 37,133 traffic fatalities in 2017 in the U.S. A total of 175,080 people died on U.S. highways from 2013 through 2017.
ASCE strongly urges Congress to fix the Highway Trust Fund (HTF) in order to provide long-term stability and modernize our nation's roads, bridges, and transit systems for the 21st century. The HTF's primary revenue source is the 18.4-cents per gallon federal motor fuel tax which has not been raised since 1993. As a result, inflation has cut its real value by 40%.
Now is the time to increase the federal motor fuels tax. This would provide a much-needed infusion of $394 billion over 10 years and combat the $1.1 trillion investment gap in roads, bridges, and transit between now and 2025. If we don't raise our motor fuels tax, America's surface transportation infrastructure deficit will continue to worsen and cost households and businesses nearly $147 billion. This included approximately $109 billion in vehicle operating costs, $36 billion in travel time delays, $1.4 billion in safety costs and $0.7 billion in environmental costs.
This small increase at the pump will save you and your family money and time. You will have shorter commutes in many cases and more options and choices for getting around – whether that be by car, bus, rail, or bike. This also means that the American marketplace will stay competitive. Reliable, modern infrastructure systems boost productivity for businesses and reduce costly delays that are often translated onto consumers.
27 states around the country have raised their gas taxes recently. It's time to be a part of history and help the federal government step up to do the same.