Oregon's infrastructure sits in mediocre condition, earning an overall grade of a "C-" in the most recent Report Card for Oregon's Infrastructure, which was released by the American Society of Civil Engineers on Wednesday. The Report Card graded 10 categories of infrastructure including energy, drinking water, roads, bridges and more.
The Report Card offered analysis and grades for all 10 categories, as well as recommendations to raise the grades. In general, the report found that Oregon has a long history of supporting infrastructure through investment and innovation, however the state still has a long way to go to bring infrastructure systems up to an acceptable level. The two major challenges the state faces are ensuring infrastructure is prepared for future natural disasters, including a possible 9.0 Cascadia Subduction Zone earthquake, and ensuring roads and bridges have funding down the line as systems begin to rapidly age.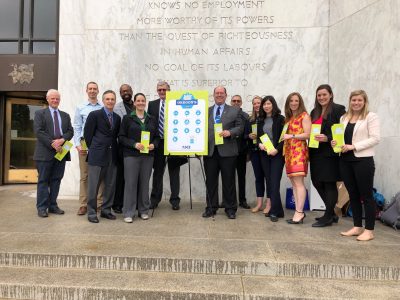 The lowest grade in the Report Card was wastewater, which received a "D." In general, these systems are aging beyond their useful design life and many will soon need replacement or full rehabilitation. Approximately 30% of Oregonians are on septic systems, about 10% of which typically experience on-site failure each year. This aging category of infrastructure needs approximately $5 billion across the state.  Levees, although slightly better than wastewater, also received one of the lowest grades in the Report Card with a "D+." Of the levees inspected by the USACE, about 11% (124 miles) of Oregon levees are rated "Minimally Acceptable," while about 30% (113 miles) are rated "Unacceptable." Looking to the future, state leaders must take proactive steps to ensure these systems have the proper funding needed to be prepared for population growth, deterioration, and disaster response.
A few bright spots prevailed in the Report Card including roads, which earned the highest grade with a "C+," and bridges, which earned a "C." Oregon has the lowest percentage of bridges that are structurally deficient in the western states at only 5.2%. This compares to 7.6% at the national level. Additionally, 90% of Oregon's highways are in fair to good condition. However, these categories may face significant challenges in the near future. Approximately 20 % of Oregon's bridges are at risk of becoming structurally deficient in the short term and congestion is already a problem that impedes on successful economic development and impacts residents' quality of life.  Finally, a major earthquake would render components of the surface transportation network unusable. Seismic retrofitting and investment in critical segments of infrastructure necessary to move emergency vehicles and supplies is necessary.
In addition to an evaluation and analysis of the 10 infrastructure categories, the Report Card also offers three overall recommendations to raise the grade. Recommendations for individual infrastructure categories can be found within each chapter.
Improve infrastructure's ability to withstand a major seismic event. Bridges, dams, drinking and wastewater systems were not designed for large seismic events, so we need to implement strong leadership, extensive planning, and robust funding to prepare our infrastructure to be resilient and aid in recovery efforts.
Prioritize investment in Oregon's bridges to protect the transportation network in the aftermath of a major seismic event. The Oregon Resilience Plan calls for the development of a mitigation policy and retrofit plan for vulnerable bridges and other infrastructure.
Provide additional funding to the Connect Oregon multi-modal, competitive grant program. Connect Oregon provides grants for air, rail, marine and bicycle/pedestrian infrastructure. It has a proven track record of increasing connectivity, strengthening the freight system, and improving the state's transportation network. Robust funding should be provided by the state legislature to ensure the continuation of the program.
ASCE State Infrastructure Report Cards are modeled after the national Infrastructure Report Card, which gave America's infrastructure a grade of 'D+' in 2017. To read the full report and learn more about Oregon's solutions to raise the grade, click here.