Dams in South Carolina are facing a serious threat. In the last five years, severe flooding as well as Hurricanes Matthew and Florence have caused nearly 80 dams to fail in South Carolina.
Despite the recent history of costly dam failures in the Palmetto State, state legislators are considering two proposals that would significantly rollback dam safety regulations. Both bills, SB 81 and SB 107, are pending in the Senate Natural Resources and Agriculture Committee, and propose to remove more than 1,700 of the state's 2,300 regulated dams from oversight by the state. These bills will eliminate safety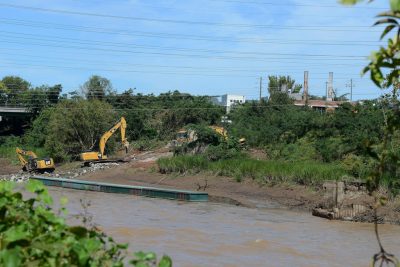 regulations for all low-hazard potential dams in the state and seek to eliminate some safety regulations for significant-hazard potential dams with an agricultural purpose. The measures are largely supported by the South Carolina Farm Bureau, and effectually place many South Carolina residents and their property at an increased risk of disastrous consequences because of the failure of deficient and sub-standard dams. SB 81 and SB 107 weaken dam safety statutes and increase the overall risk of catastrophic dam failures.
ASCE is partnering with the Association of State Dam Safety Officials (ASDSO) and other groups to express serious concern about SB 81 and SB 107. In 2018, Hurricane Florence flooded much of the eastern part of the state. Up to a dozen dams failed during Florence, including one that flooded U.S. 501 in eastern South Carolina. If passed, these bills could leave residents, their properties, and state-owned infrastructure at risk and increase the overall risk of catastrophic dam failures. Of particular concern is whether dams are being maintained appropriately. Many are aging earthen structures. In some cases, they were originally built in rural areas that now have development downstream.
Historically, South Carolina lawmakers have struggled to address dam safety. In recent years, they have failed to pass tougher dam safety rules. However, since the historic 2015 flood, which caused more than 50 regulated dams to crumble and cost millions of dollars in property damage—while also prompting lawsuits by downstream property owners, the issue received a higher profile.
In the 2017 Infrastructure Report Card, dams received grade of a "D," which is one of the lowest grades in the Report Card. Due to aging systems and a growing population, states across the country are seeing more dams classified as high-hazard potential, meaning the need for increased safety regulations and emergency action plans (EAPs) is more important than ever. Currently, South Carolina has 178 high-hazard potential dams and 89% of state dams have EAPs.
ASCE urges the state legislature to be proactive in ensuring dam safety, which will then protect the welfare of populations near dams and all the benefits dams bring to our communities. Catastrophic storms are not stopping anytime soon and will continue to impact our state. We cannot afford to wait until a dam failure has occurred to do take action. Help us protect and improve dam safety in South Carolina. Tell your legislator why dam safety matters.