Depletion of the Federal Highway Trust Fund- What Could it Mean for Florida?
An Exclusive Interview with FDOT State Secretary Prasad by Steve Lubinski, PE, CWI, LEED-AP
Miami-Dade ASCE conducted an exclusive interview on May 6, 2014 with Florida's Secretary of Transportation and head of FDOT, Ananth Prasad. The Federal Highway Trust Fund (funded by the Federal Gas Tax) provides 30% of Florida Department of Transportation's funding, but the fund is in danger of becoming insolvent in 3 months or less according to the Congressional Budget Office estimates. Capitol Hill gridlock could make insolvency a reality if they don't act (as shown in the chart below from USDOT).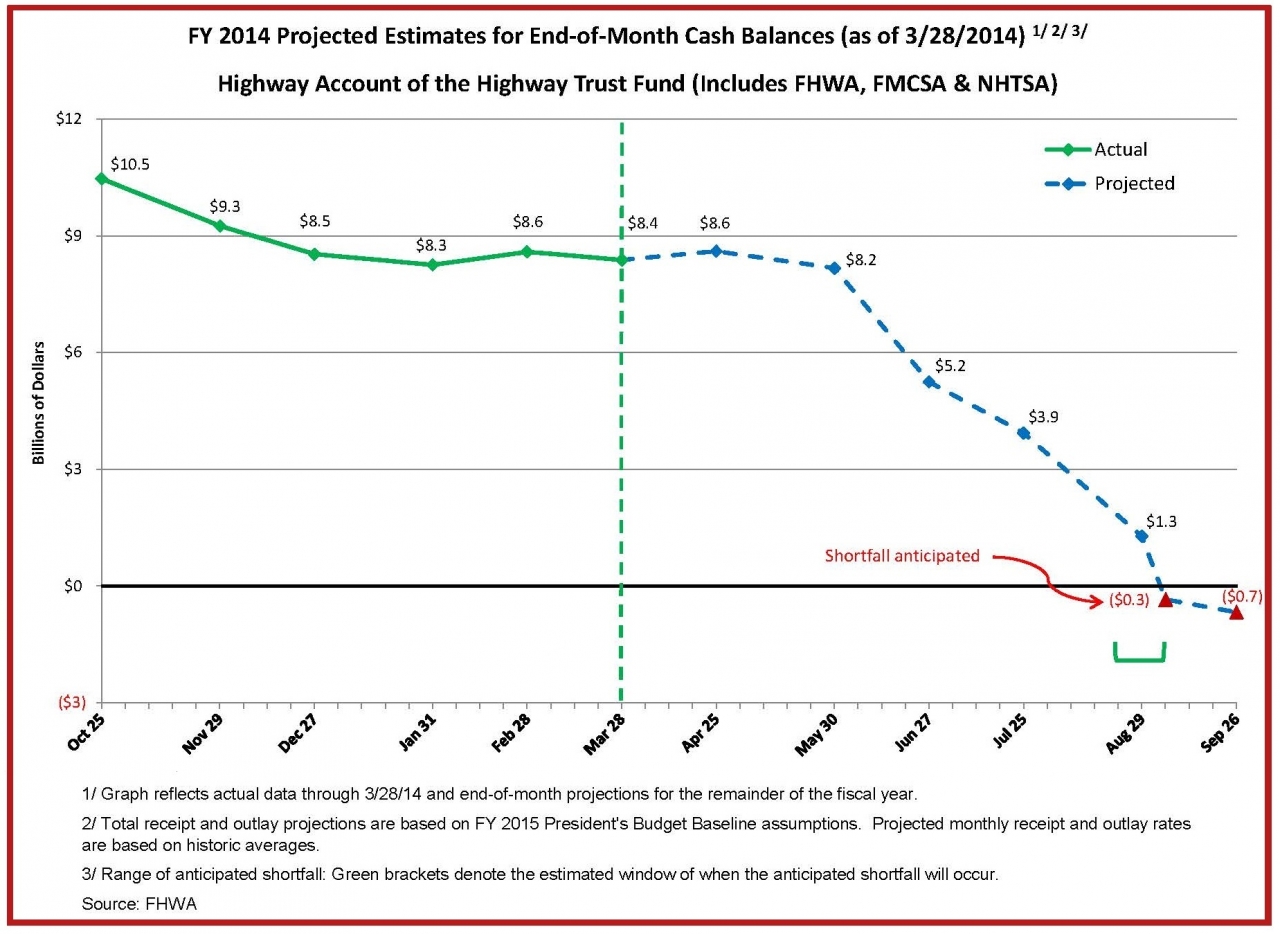 MD-ASCE: Miami-Dade ASCE thanks you for this opportunity. Can you discuss the magnitude of the problem with the Federal Highway Trust Fund?
AP: As you know it's a problem. The Federal Highway Trust Fund will run out of money in July or August, so Congress will have to find a way to keep it solvent and come up with around $9 Billion. But then the bigger picture going forward is that the receipts coming into the Federal Highway Trust Fund are actually less than the outlays are for project commitments. With all of the projects from state Departments of Transportation the current shortfall would be around $15 Billion next year. First Congress will have to get $9 Billion for the Federal Highway Trust Fund to be solvent for the remainder of this federal fiscal year, and then going beyond, we need to either extend MAP 21 at the current funding level plus add an additional infusion of $15 Billion+ until a more permanent solution is arrived at by having higher revenues to support the program or reduce the program to the level of the revenue.
MD-ASCE: A big reason why the Highway Trust Fund revenues are not keeping pace with our needs is that cars have become much more efficient than 20 years ago. Are there other causes?
AP: Yes. The other issue is that the Federal Highway Gas Tax has not been raised since 1993 or indexed to inflation. When you look at the cars you drove in the mid 1990s, the car that you drive today is more fuel efficient. Also, what a dollar could buy in 1993 is not what a dollar can buy in 2014. So you have two things going against you, the first thing is the purchasing power of the gas tax which hasn't changed since 1993 (inflation), and the second is your fuel efficiency. Hence we have this crisis that is getting more acute lately because of better fuel efficiency standards.
MD-ASCE: Has FDOT received any correspondence from USDOT about the possible insolvency?
AP: No. However, USDOT Secretary Foxx has made some comments in general briefings with us during federal highway and USDOT national meetings, but no formal correspondence sent out, nor any correspondence about the possibility of slowing down reimbursements to the states. With this federal program, we have to spend money, then seek reimbursement from them (USDOT).
MD-ASCE: Has FDOT begun working on any contingency plans on what to do if the Federal Highway Trust Fund does become insolvent in July or August?
AP: Our contingency plan is that we are only dependent on federal funds to the tune of about 30% of our programs. So, unlike other states as shown in a newspaper article, we are one of the few states that do not have to rely as heavily on federal funds. So what we've been doing is carrying a higher balance in our trust fund so that if we don't get reimbursed (by the federal government) timely, then we can still continue to pay our bills to contractors. I would say that since Florida only relies on the federal government for 30%, and Florida revenues are a little robust, so we carry a higher balance in our Florida trust fund. I think we could survive an insolvent Federal Highway Trust Fund for 3-6 months without any negative impact, but beyond that you're going to have a tangible impact that you can't avoid.
MD-ASCE: What do you think will happen in Washington D.C. after July or August?
AP: Beyond July or August there is a big election coming up nationally so I'm cautiously optimistic that they will put more money in to make the fund solvent until next year, then after the fall elections are done the Congress would likely begin debating a much more robust highway bill and how to fund it. Policy frameworks are easy, but the bigger issue is how do you get funding?
MD-ASCE: Has FDOT made any plans for projects that would be protected if the Federal Highway Fund does become insolvent?
AP: Safety and preservation is first. The second thing would be public-private partnership projects. Those have to be protected. So we'll walk through the list. We have a game plan for doing this. Obviously safety and preservation, then public-private partnerships, then we'll start looking at projects that could be deferred and projects that are based on other things that are happening in a region that we don't want to negatively affect.
MD-ASCE: In South Florida we have many big projects planned during this timeframe like the 826-836 interchange, managed lanes for Palmetto and I-75, I-95 Express phase 2.
AP: 826-836 would be one of the last things affected since it is a project already under construction.
MD-ASCE: And the other examples?
AP: The reality is that is that for projects like the express lanes on the Palmetto and I-75 where construction has not begun, we may have to delay the project a few months. But we would not delay an ongoing project of that magnitude like 826-836. We would look at projects that are about to start and maybe push out the start date a little bit, and not take on new projects until the situation stabilizes. Ongoing construction projects…. I don't foresee that they would be impacted.
MD-ASCE: The USDOT site has a sub-account listed for mass transit, which projected it to remain solvent only until late 2014. How might mass transit be affected?
AP: We would have to look at prioritizing critical services, not taking on new things, and maybe scale back on some things. It's like if tomorrow someone said you now need to live off only 70% of your income, then you'd have to make some choices. For the next 3 months you need to live off 70% of your income, you'd prioritize, you defer some things.
MD-ASCE: What are some things the public might notice if the federal transit account becomes insolvent?
AP: I'm sure the service levels would be affected. If you don't have the money, you can't run the same services….frequency of buses or trains, so you'd see diminished or less frequent service that you'd have to work around. Hopefully they will fix the shortfall. I think right now there is more of a focus (in Washington) on a short-term fix. I don't believe there is enough support for increasing the gas tax, so the folks in D.C. they may have to look at other options of maybe cutting things that aren't as relevant in the 21st century.
MD-ASCE: What are some other things you think Floridians should know?
AP: We need to continue investing in infrastructure. At the state level we are doing it. At the federal level their role should be proportionate with the amount of funding they provide. We need to deliver projects in a more cost-efficient way, while making sure we balance it within model impacts, historical impacts, social impacts, and economic considerations. All those things need to be balanced. If we do that, we can deliver projects in the most cost-efficient way.
MD-ASCE: What is your take on the last legislative session in Tallahassee?
AP: Our budget is robust. The legislative session just ended and the legislature just passed the budget to fund the transportation at record levels, which obviously the Governor has been very supportive of….our investment in ports, aviation, and transportation. Investments in transportation are the foundation for economic development and activity. If we are looking to attract businesses to come to the state and wanting businesses in the state to grow, they are going to ask: what's our quality of life, quality of education, and quality of infrastructure.
Read the full interview here in their May newsletter.