With a state that's growing as fast as Virginia, you're bound to have growing pains, but none are as striking or obvious as the traffic gridlock across the state. So, would you be surprised that the Virginia Section of the American Society of Civil Engineers gave roads a D grade in their new 2015 Report Card for Virginia's Infrastructure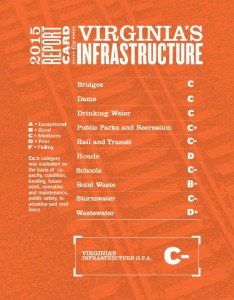 ? While some big steps were taken by the legislature in 2013 to bring renewed funding to transportation, may end up only keeping the status quo of transportation troubles across the state whether by car or transit. Another growing pain issue for Virginia is there are a lot of dams in the state (1,789 to be exact) and the number of people that now live behind old dams has increased with the growth of the state. The majority of dams were constructed between 1950 and 1975, making the average age more than 50 years old. With an increasing population, more houses and businesses are now below dams which means there's more risk for damage and lives being lost if there was a failure. The good news is that Virginia has made a lot of progress in identifying and educating owners on how to fix dams that are considered high-hazard, but the bad news is that 141 of these high-hazard dams do not meet current dam safety standards, resulting in a grade of C for Virginia's dams. Growth is also affecting schools as localities try to keep up with growing schools in some areas and older school maintenance in localities that seem to be losing students and residents.
Not only is Virginia growing, but its infrastructure is also starting to show its age with basic services like water, wastewater, and stormwater representing the old infrastructure bones of the cities. Virginia's 2,830 public water systems providing drinking water to more than 7 million Virginians, and the Report Card found that many of these systems are 70 years or older and require significant asset renewal in the immediate future. The bad news is that funding is slim – from 2000 to 2012, the state only saw $200 million in Drinking Water State Revolving Funds, which is less than 10% of the commonwealth's total investment needs. Wastewater needs have jumped 45%, and best estimates show $1 billion is needed to control overflows that pollute local waters. Also, stormwater systems are equally old, and surveys show about one-third of the infrastructure is older than 50 years and much of the remainder was built 25 to 50 years ago. While every bit of funding helps, the reality is Virginia's water systems are only getting older each day and each dollar available is being split between trying to fix yesterday's problems and today's.
Growth and age are like a one-two punch to Virginia's infrastructure causing a real struggle to maintain an acceptable level of infrastructure service for the state. Virginia's C- infrastructure shows the Commonwealth is barely maintaining the status quo, and without significant change, it will be a struggle to maintain even the current gridlock of roads and frequent water pipe breaks without new solutions. In the Report Card, they give 3 solutions to raise Virginia's grades:
1. Increase Leadership in Infrastructure Renewal: Virginia's infrastructure is the responsibility of all our leaders. We need bold leadership and a vision for how strategic infrastructure investment can improve the current status quo.
2. Promote Sustainability and Resilience: Today's infrastructure must meet the state's needs in the best and worst of times, and also protect and improve the environment and our quality of life.
3. Develop Comprehensive Strategies: Virginia should prioritize and execute infrastructure strategies that put our investments where they are needed most, according to well-conceived plans that focus on comprehensive solutions that provide a good return on investment.
The Virginia legislature is just getting started, and there is no better time for them to take a second look at the infrastructure they are responsible for than now with a fresh update from the civil engineers who work on the state's infrastructure every day.