On Wednesday, February 16th, the Vermont section of ASCE released the 2023 Report Card for Vermont's Infrastructure in Montpelier. The report included nine infrastructure categories, and overall, Vermont earned a grade of "C", the same grade as the 2019 Vermont state report card. 
That grade means Vermont's infrastructure is in mediocre condition and requires attention but is a step ahead of the national average of "C-" given in the 2021 Report Card for America's Infrastructure. Civil engineers graded Vermont's aviation (C), bridges (B-), dams (C), drinking water (C), energy (C+), roads (C+), solid waste (C+), stormwater (C-), and wastewater (D+).
The release event was held inside the Vermont statehouse and included several leaders from across Vermont, including: 
U.S. Representative Becca Balint

Ann Gammell, P.E., Chief Engineer at the Vermont Agency of Transportation

Julie Moore, P.E., Secretary of the Vermont Agency of Natural Resources 

Jennifer Fitch, P.E., Commissioner of Vermont's Department of Buildings and General Services.
A team of nearly 20 civil engineers from across Vermont spent hundreds of hours analyzing key elements of the state's infrastructure to come up with the grades and determine what is needed to maintain and improve infrastructure systems across the Green Mountain State.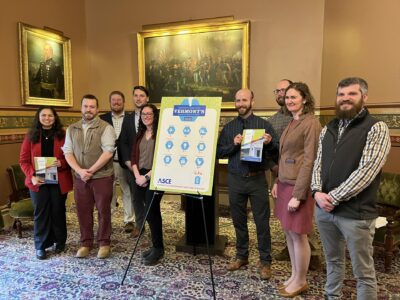 Bernie Sanders (D-VT) said:
"Infrastructure is the backbone of our communities and our economy. Yet year after year, Washington has underinvested in our aging, essential structures. While Vermont is in better shape than many other states, we still have a long way to go. A 'C' grade is not good enough to me and it is not good enough for Vermont. That's why I fought hard to pass the historic Infrastructure Investment and Jobs Act in our last Congress – the most significant infrastructure bill since the creation of the interstate highway system in the 1950s – and ensure Vermont got its fair share."
The Vermont State Report Card and Infrastructure Improvements
The report card found that funding from the Bipartisan Infrastructure Law (BIL), mentioned above by Senator Sanders, is providing a much-needed temporary boost in funding for infrastructure systems across the state, but long-term funding solutions are still needed. 
One example is funding for bridges. Vermont's 2023 budget saw a 27% increase in bridge funding thanks to the BIL. Over the last five years, Vermont has also been successful in decreasing the number of bridges in poor condition from 5% to 2.4%. However, with many aging bridges, the need for maintenance and repairs will continue to grow.
Like all other states, Vermont is also seeing the consequences of extreme weather and climate change, which are outside the conditions when much of the state's infrastructure was built. 
Vermont has adapted its stormwater requirements for new developments in order to better handle runoff from heavy rain events.
Finally, Vermont has aggressive goals for the environment with both power and solid waste, but the state faces challenges as they aim to reach those goals. 
Vermont imports three times as much power as it produces, which makes electricity expensive for homes and businesses. While nearly all the power from Vermont is generated from renewable sources, lack of transmission capacity means much of the power generated isn't able to be distributed throughout Vermont and the rest of New England. 
Vermont is also trying to increase recycling and reduce the amount of solid waste put in landfills or burned. However, as the amount of solid waste put in landfills decreases, so does the amount of funding for landfills.
The Vermont section of ASCE will use the state report card to advocate for better infrastructure investment at the Vermont General Assembly and at ASCE's legislative fly-in in Washington next month.
You can read the complete Vermont Infrastructure Report Card
here
.