The first term of the Biden Administration has demonstrated a commitment to not only combatting the effects of climate change, but also ensuring that critical infrastructure systems are able stand up to increasingly severe storms and weather events.  The passage of the Bipartisan Infrastructure Law included billions in investments to rebuild and modernize the nation's electric grid, upgrade water infrastructure systems, and strengthen disaster mitigation programs.  The administration further demonstrated its commitment to these principles last week by joining ASCE for two events focused on the incorporation of resilience measures into critical infrastructure, addressing the effects of climate change, and improving ASCE codes and standards to design more climate ready infrastructure.
On Wednesday, February 1st, the White House Office of Science and Technology Policy (OSTP) joined ASCE for a discussion and collaboration session on its upcoming National Nature Assessment.  The inaugural assessment will be conducted by the U.S. Global Change Research Program to gain a greater understanding of the impact of climate change on the natural environment.  It will examine all aspects of nature in the U.S. from land and water, to health and economic benefits, and national security implications.  The objective of the event was to seek input from ASCE and its members on how best to focus the development of the assessment.  OSTP asked participants to focus on several questions and issues, including what constitutes nature, what decisions the assessment should support, and what sources of information should guide the assessment's formation.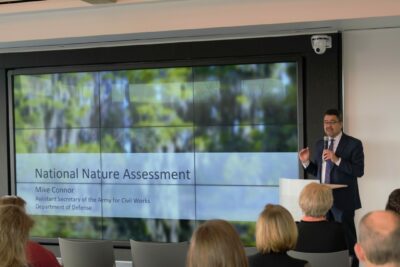 ASCE President Maria Lehman addressed the attendees and emphasized the importance of incorporating natural features into infrastructure systems to address the impacts of climate change, noting that "incorporating nature-based solutions and best practices into our infrastructure systems can contribute meaningfully to our resilience, economic health, and mitigating the impacts of climate change."  Attendees also heard from a number of Biden Administration Officials about the importance of the upcoming assessment, including Assistant Secretary of the Army for Civil Works Michael Connor, White House Deputy Director for Climate and Environment Jane Lubchecno, and White House OSTP Assistant Director of Environmental Science, Engineering, Policy and Justice Dr. Gretchen Goldman.  White House OSTP is currently seeking input on the development of the National Nature Assessment and will be accepting comments until March 31, 2023.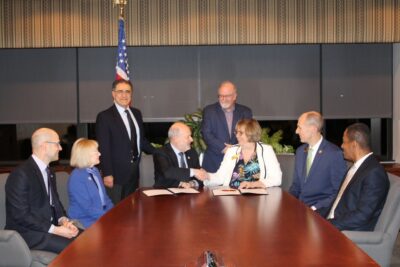 On Thursday, February 2nd, ASCE's Environmental and Water Resources Institute (EWRI) hosted officials from the National Oceanic and Atmospheric Administration (NOAA) for a Leadership Summit on Climate Ready Infrastructure.  NOAA Administrator Dr. Richard W. Spinrad spoke to attendees to discuss a new Memorandum of Understanding (MOU) between NOAA and ASCE signed the previous day.  The MOU establishes a new partnership with ASCE and outlines how NOAA's work on climate science will inform the development of ASCE codes and standards, and manuals of practice.
Last Thursday's summit also featured several panel discussions focused on climate ready infrastructure and its future in the civil engineering field.  The first discussion focused on progress currently being made on development of climate ready infrastructure , and featured government officials, climate scientists, and civil engineers- including Don Scott, Chairman of ASCE's Structural Engineering Institute's Resilience Committee and Codes and Standards Executive Committee.  Another panel focused on taking a broader look at the importance of resilience and sustainability to the practice of engineering.  Panelists included several experts such as NOAA's Chief Scientist Dr. Sarah Kapnick who noted the potential of incorporating climate science into building codes to reduce risks associated with severe weather events.  The day's final panel focused on incorporating equity into climate-ready infrastructure design, which focused on disparities in critical infrastructure systems which have disproportionately affected communities of color.  Panelists included Catherine Coleman Flowers, founder of the Center for Rural Enterprise and Environmental Justice, who recounted her experiences witnessing environmental injustice growing up in Alabama.
ASCE remains committed to building a 21st century infrastructure that can stand up to the impacts of climate change.  Bringing expert voices to the conversation and building partnerships with agencies and organizations that share ASCE's goals will be essential to reducing the effects of climate change on the built environment while preserving and sustainably utilizing the natural environment to protect public health and safety.  ASCE looks forward to working with these partners going forward, and to continue these critical discussions in the months and years ahead.