United for Infrastructure 2021 is drawing to a close. The week was full of in-depth panels, remarks, and interviews on the importance of infrastructure systems to the economic vitality of all communities. A focus on infrastructure from diverse stakeholders was especially timely as President Joe Biden continues to advocate for his American Jobs Plan that contains nearly $1 trillion to improve bridges, roads, drinking water systems, stormwater infrastructure, and much more. The week also comes on the heels of ASCE's 2021 Report Card for America's Infrastructure release in March, and the document was mentioned by numerous panelists and keynote speakers throughout the week.
President Biden himself joined the program on May 10 to discuss the benefits of his American Jobs Plan and the role his proposal would have in creating economic opportunity in the U.S. "Let's get to work. Not only building back better, but building back together," rallied the President, noting this is the second time he's joined United for Infrastructure group, first in 2015 as Vice President.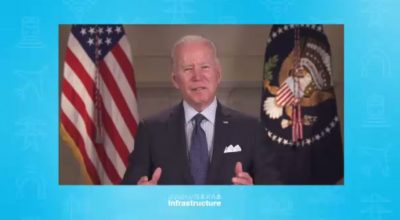 Biden was followed on the United for Infrastructure virtual stage later that afternoon by Secretary Pete Buttigieg, who stressed the unique role infrastructure can play in getting our economy back on track today while strengthening our competitiveness into the future. "If we get this right, everyone is going to be better off," remarked the Secretary.
Other events during the week featured in-depth remarks on the importance of permit reform, strengthening opportunities for disadvantaged communities to compete for grants and funding, the growing water investment gap and emerging technologies, just to name a few.
ASCE's Managing Director of Government Relations and Infrastructure Initiatives Emily Feenstra moderated a panel on scaling resilience success. Speakers included Tom Lewis, National Leader for Climate, Resilience, and Sustainability, WSP USA, Jennifer Aument, Global Transportation Chief Executive, AECOM, and Andrew Wishnia, Deputy Assistant Secretary for Climate Policy, USDOT. All panelists were optimistic that investments could made to help communities protect and withstand increasingly severe storms.
United for Infrastructure, now in its 9th year, is a not-for-profit organization based in Washington, D.C. The coalition works to educate the American public and policymakers about the importance of infrastructure to the nation's economy, workers, and communities.
The organization was founded and is led by its Steering Committee – a bipartisan team that includes leading business groups, labor unions, and think tanks working to improve America's infrastructure. ASCE is a steering committee member, alongside the AFL-CIO, the American Society of Civil Engineers, Building America's Future, Business Roundtable, the Brookings Metropolitan Policy Program, the U.S. Chamber of Commerce, the National Association of Manufacturers, and the Value of Water Campaign.
There are a few remaining events, including a policy briefing hosted by ASCE next Tuesday, May 18 at 1:00 pm ET. "Stretching the Dollar: Asset Management as a Tool to Improve Resiliency" will feature state and local leaders who have turned to asset management as a tool to improve community resilience. Speakers will include Anita Seitz, Mayor of Westminster Colorado and Matt Vega, National Director of Infrastructure & Government with US CAD. The conversation will be moderated by Celine Hyer, PE, M. ASCE, Senior Vice President, ARCADIS. You can register and attend for free here.