On Monday, the Environmental Protection Agency (EPA) put forward its plan to address the challenges posed by per- and polyfluoroalkyl substances (PFAS).  The PFAS Strategic Roadmap outlines EPA's plan of action to address the public health and environmental threats these substances pose.  The plan was produced by the EPA PFAS Council, which was established by Administrator Michael Regan in April of this year to build on existing work and to help to alleviate the effects of PFAS.
What are PFAS and Why are they a Problem?
PFAS are a broad category of manmade chemicals which are found in many commonly used products such as cookware and food packaging, and have also been used by fire departments due to their flame retardant nature.  The trouble is that these chemicals do not break down naturally in the environment, which is why PFAS are often referred to as "forever chemicals".  Because these substances are found in so many commonly used products they can easily contaminate drinking water, soil, and the atmosphere.  This in turn leads to numerous health risks to human beings.  Exposure to PFAS is widespread and has been shown to be linked to numerous diseases such as ulcerative colitis, thyroid disease, and kidney and testicular cancer.
Fixing the damage caused by PFAS is also a costly and arduous proposition.  According to a recent report from the Government Accountability Office (GAO), the Department of Defense is expected $2.1 billion in FY 2021 costs for PFAS clean-up efforts for its use of firefighting foam containing these chemicals, and it is estimated that the process could take decades to complete.
Additionally, ASCE's 2021 Infrastructure Report Card notes the risks PFAS pose to the nation's wastewater infrastructure, warning that as threats to the environment and human health increase, so will the need for increasingly costly improvements to wastewater treatment systems.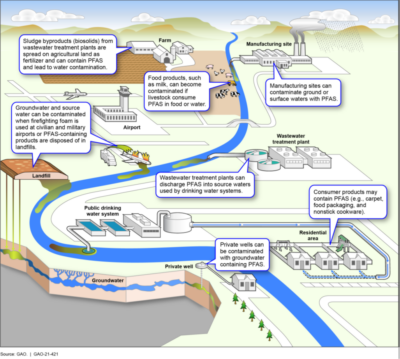 What Is in the Plan?
The proposed roadmap lays out a comprehensive "lifecycle approach" to addressing PFAS.  Because PFAS are released into the environment at every state of its lifecycle from manufacture to disposal, and because products containing these substances remain widely used, EPA is placing an emphasis on getting "upstream of the problem", meaning EPA will prioritize addressing PFAS before it can enter the environment.  By taking on the challenge early in the lifecycle process, EPA believes it will be easier to address challenges "downstream" (environmental contamination, human exposure, associated health issues).
EPA's approach is centered around three primary mandates.  The first is investment in research and development to better understand the impact of PFAS on the environment and on human health.  Second, the roadmap lays out plans to place restrictions on PFAS in order to prevent widespread contamination.  Third, EPA lays out plans to remediate the damage caused by PFAS by speeding up cleanup activity.
Using this framework, EPA has outlined several actions it intends to take over the next four years.  Beginning as soon as this Fall, EPA program offices will begin implementing several research and evaluation actions.  These actions include publishing a national PFAS testing strategy, issuing a final rule on a nationwide PFAS monitoring system for drinking water, and developing a system to monitor and mitigate PFAS air contamination.
Going forward, the agency will take further actions to restrict the use of PFAS to limit contamination and exposure.  Expected to be carried out between 2022 and 2023, these actions include restricting the resumption of PFAS manufacturing that had been previously abandoned without providing proper notice of new use, restricting PFAS discharges from several industrial sources, and designating particularly harmful PFAS as hazardous substances under the Comprehensive Environmental Response, Compensation, and Liability Act (CERCLA).
Finally, EPA's roadmap describes actions it is taking and plans to take to remediate the effects of PFAS contamination, which include evaluation and development of technologies to reduce the presence of PFAS in the environment, and issuing updated guidance for destroying and disposing of certain PFAS and materials which contain certain PFAS.
Oversight and Engagement
On Wednesday, Assistant Administrator Radhika Fox with EPA's Office of Water testified before the Senate Environment and Public Works Committee to discuss the roadmap and the agency's work to address PFAS.  In her testimony, Fox heralded the plan as an important step forward in the fight against PFAS, saying the proposals put forward in the plan would lead to "enduring protections for communities across America."
Fox faced a number of questions regarding the roadmap's scope and proposed actions.  She emphasized the need to learn more about many of the thousands of types of substances under the PFAS classification in order to build a stronger scientific foundation for future action.
Ranking Member Shelley Moore Capito (R-WV) expressed frustration with the plan, particularly the proposed timeline to implement certain regulations pertaining to PFAS levels in drinking water, arguing that more immediate action was needed. Fox pointed out that the roadmap outlines EPA's plan to put forward a proposed drinking water regulation by Fall of 2022, and highlighted the need to ensure that any policy put forward needs to be properly evaluated to ensure it is scientifically sound.
ASCE will continue to monitor developments in the effort to regulate PFAS and will be closely following activity related to EPA's proposed actions. This will be of particular importance to measuring the safety of the nation's drinking water and wastewater infrastructure, which ASCE graded at a C- and D+ respectively on its 2021 Infrastructure Report Card.