In its inaugural Report Card for Puerto Rico's Infrastructure, the ASCE Puerto Rico Section announced a near failing grade of a 'D-' for the island's infrastructure. The grades were announced in a press conference held in San Juan, Puerto Rico on Tuesday, November 12. The Report Card graded eight categories of infrastructure: bridges (D+), dams (D+), drinking water (D), energy (F), ports (D), roads (D-), solid waste (D-), and wastewater (D+).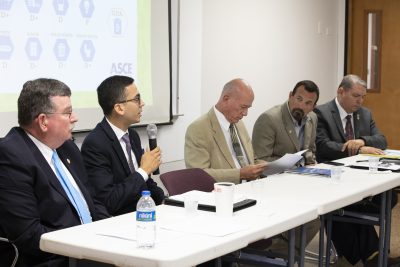 According to the report, much of the island's infrastructure is reaching the end of its useful life, and infrastructure networks are still being rebuilt after hurricanes Irma and Maria devastated the island in 2017. Energy received the lowest grade of 'F,' meaning the system's infrastructure is in unacceptable condition and has widespread advanced signs of deterioration. Hurricanes Irma and Maria destroyed much of Puerto Rico's electric grid in 2017, causing the island to experience the longest blackout in American history and the second-longest blackout across the world; some areas on the island had no electricity until 11 months after the storm. In August of 2017, Puerto Rican officials estimated that $1.6 billion was needed in overall infrastructure investment to meet the economic goals needed to prevent bankruptcy.
Hurricane Maria's impact one month later increased the funding required to improve infrastructure. The Puerto Rico Electric Power Authority (PREPA) proposed a $20 billion plan to renovate the energy grid on the island. Thus far, funding has been provided to restore electricity access, but the resulting grid is fragile, and blackouts are frequent.
However, Puerto Rico's failed energy infrastructure did not start with the 2017 hurricanes; the existing grid was already in disrepair and experienced frequent outages. Coupled with the 2017 events, the electric grid reached the point of total failure. Puerto Rican authorities have since focused their efforts on short-term goals of restoring power as quickly as possible. ASCE supports recent findings from the U.S. Government Accountability Office that any grid investment must be accompanied by policy, guidance, and regulations that yield grid resilience consistent with industry standards. To facilitate smart building, ASCE published a series of codes and standards for grid design and construction, such as ASCE 7, to better enable Puerto Rico's energy infrastructure to withstand future storms and other stresses.
Meanwhile, Congress has appropriated $42.5 billion dollars to FEMA for recovery efforts, but Puerto Rico has only $15 billion dollars as of May 2019. Puerto Rico is limited in what it can do financially to rebuild and revitalize the island's infrastructure because the island is structured under tier 2 of the Puerto Rico Oversight Financial Oversight and Management Board (PROMESA), which has fiscal control over the island due to the island's bankruptcy proceedings.
If the island wants to rebuild and modernize its infrastructure, it must increase received investment by $1.23 billion to $2.3 billion annually—or $13 to $23 billion over 10 years. However, when considering deferred maintenance and hurricane-related recovery projects, the investment gap is even larger. There is a dire need for the island to rebuild smarter by building to adequate codes and standards, acquiring funding from all levels of government, and incorporating resilience into infrastructure plans by using climate-resilient materials.
While most of the island's infrastructure systems are in poor condition—exhibiting significant deterioration, the report describes opportunities to rebuild its infrastructure with a focus on resilience. Recommendations for individual infrastructure categories can be found within each chapter.
Increase the resiliency of Puerto Rico's infrastructure. Our future depends on the ability of our infrastructure to not only protect us against increasingly severe storms, but to facilitate timely emergency management, response, and recovery efforts after a major event. The resiliency of all our networks can be improved by requiring the Central Government, municipalities, and industry build to ASCE standards, incorporating life-cycle cost analysis into projects, and by maintaining our existing assets.
Establish a Puerto Rico Infrastructure Plan with a wide variety of stakeholders and experts in the field. Infrastructure development is a long-term endeavor with significant impacts on economic growth and competitiveness.
Puerto Rico's infrastructure systems need comprehensive and consistent maintenance programs and databases. A lack of programmed funding for the comprehensive maintenance of our existing roads, bridges, energy, dams and other critical networks has severely impacted the lifespan of these assets. Developing comprehensive asset management databases is a critical first step, as these databases can help determine total funding and maintenance needs.
Improve and increase the technical expertise at agencies that own and operate infrastructure so that they can complete regulatory requirements. Many of Puerto Rico's agencies have too few technical experts to operate the infrastructure in accordance with regulations and customer expectations. Additionally, institutional knowledge is not codified in the agency, but instead may be lost when individuals retire or resign.
Hector Colon de la Cruz, Chair of the Report Card for Puerto Rico's Infrastructure was interviewed on ASCE's Plot Points Podcast about his work as chair of the island's inaugural Infrastructure Report Card, the importance of building a resilient electric grid, solutions offered in the Report Card, and in being proactive in planning Puerto Rico's future, civil engineers must be at the forefront.
This report card gained media traction from Puerto Rico to Washington, DC, with stories in Reuters, Roll Call,  American Journal of Transportation, WIPR in Puerto Rico,  Metro Puerto Rico, and more.
ASCE State Infrastructure Report Cards are modeled after the national Infrastructure Report Card, which gave America's infrastructure a grade of 'D+' in 2017. To read the full report and learn more about Puerto Rico's solutions to raise the grade, click here.