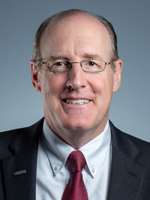 Guest Post by John Barton, PE, Senior Vice President, HNTB
We can do better
Infrastructure investment is needed now. Clearly the last 15 months have taught us the urgency of why now is the time. The lack of spending on infrastructure has been devasting. Blackouts in Texas. Wildfires in California, Oregon and Colorado. The alphabetical names of hurricanes have been used up. Natural disasters continue to strike while the nation is dealing with the impacts of a global pandemic. The human toll is enormous. The price paid by the economy, our transportation system and other infrastructure is, too. With these types of events becoming more commonplace, we can clearly see how important a resilient infrastructure network is to response, recovery and saving lives.
But our infrastructure hasn't changed. It is still crumbling and is inadequate to handle the stresses of emergencies and disasters reliably and equitably. According to ASCE's 2021 Report Card for America's Infrastructure, the nation earned an overall grade of C-. This means our infrastructure is in mediocre condition and we can do better.
Path forward
The path to resilient infrastructure starts with a level of investment in our infrastructure that allows us to better prepare for the life-changing events to come so that our systems can better handle high-stress situations while protecting family, friends and neighbors in our communities.
With this investment we can establish a constructive regulatory and policy environment that incorporates resilience into every stage of the program/project cycle. Making resilient infrastructure a reality requires industry standards along with forward-looking approaches that allow infrastructure to act as a natural buffer, thus lessening negative impacts of a catastrophic event and allowing for quicker recovery time.
Building resiliency goes beyond physical infrastructure. It also involves thoughtfully embedding resiliency inside organizations — ensuring that they have systems and processes in place that allow them to adapt, adjust, evolve and respond to change and emerging challenges.
Investing today in resiliency will create jobs, improve communities, strengthen economies and minimize costs in the wake of future natural disasters and prevent these disasters from turning into catastrophes. By prioritizing infrastructure now, we are investing in not only in the economic health of our nation, but also its physical health.
Mr. Barton is a senior vice president for HNTB and serves as the firm's professional services chair, national Department of Transportation market sector leader and interim national bridge leader. He develops and directs strategies that enhance HNTB's services to transportation sectors across the country. Mr. Barton's 30-plus years of experience in the transportation industry enable him to speak about a variety of transportation topics, including U.S. infrastructure investment, Highway Trust Fund solvency and diverse funding sources, efficient infrastructure investments, resiliency and sophisticated engineering approaches and solutions.