The ASCE Mississippi Section released the 2020 Report Card for Mississippi's Infrastructure this morning in a virtual news conference, announcing grades and solutions for 14 infrastructure categories. Due to the ongoing spread of the COVID-19 pandemic and risks posed by large gatherings, the Section held the press conference virtually. Speakers included Jennifer Sloan Ziegler, Ph.D., P.E., ASCE Mississippi President; Jacob Forrester, P.E., Chair of the Report Card; and Starkville Mayor Lynn Spruill.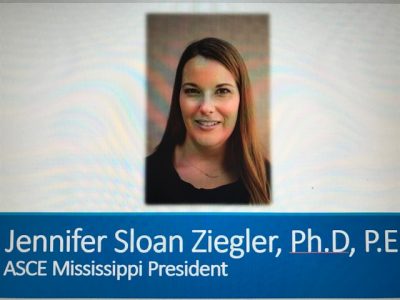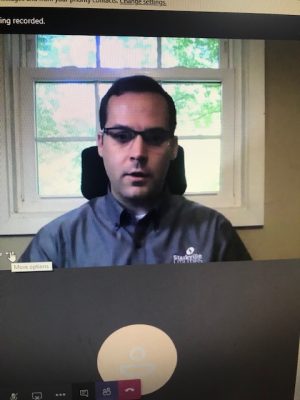 Mississippi's infrastructure earned a dismal grade of a "D+." Civil engineers graded the state's aviation, bridges, dams, drinking water, energy, inland waterways, levees, ports, rails, roads, solid waste, and wastewater infrastructure.
On the heels of a tornado outbreak in Mississippi on Easter Sunday, the report emphasized that severe weather events – such as tornadoes, flooding, hurricanes, and drought have put stress on the state's infrastructure.
Additionally, the state's infrastructure is aging and beyond its useful life, which impacts quality of life and suppresses economic growth for Mississippi residents. Of Mississippi's 17,072 bridges (D-), more than 400 timber pile bridges have been closed to the public since 2018 due to the FHWA deeming structures unsafe and being insufficiently inspected—impacting almost every county in the state. The bridge closures have affected routes for emergency vehicles, school buses, and commuters. In 2018, 1,603 of the 1,702 bridges (9.4%)– were structurally deficient, which is more than the 7.6% of bridges nationwide that were identified as structurally deficient the same year.
Along with bridges, roads received the lowest grade (D-) in the report. Nearly 40% of major urban road miles in the state are in poor condition – which is double the national rate. The average motorist in Mississippi spends $820 in extra vehicle repairs and operating costs due to poor condition of roads. In addition, the state's fatality rate in 2018 was one the highest in the nation.
Water systems and water resources are other significant concerns in the state.
Mississippi has over 900 miles of concrete and earthen levees that protect approximately four million people and $21.8 billion in property.
Nearly half of the state's levee systems are rated unacceptable, meaning the condition of the system may prevent it from performing as intended—or a serious deficiency has gone unaddressed. In addition, none of the U.S. Army Corps of Engineers (USACE) Mississippi levees are in acceptable condition under USACE's standards and little to no information is available on the condition of non-USACE levees.
Aging drinking water systems (D) are losing as much as 30-50% of their treated water to leaks and breaks. The high leakage rates and water main breaks are mostly due to the aging pipes of legacy water systems in the state. Some pipes were laid as early as the 1920s, while other water systems consist of pipes that were laid from the 1940s to 1980s. Many of these networks have aged past their useful life span.
However, freight networks are pulling their weight.
Mississippi's ports, one of the highest graded categories (B-), support over 125,700 jobs and nearly $5.4 billion in income, while generating nearly $17 billion in economic stimulus annually. Due to new investments and upgrades at the three largest ports – Gulfport, Pascagoula, and Bienville – following Hurricane Katrina, all three ports are in good condition and have enough capacity to meet their current needs.
Mississippi's rails (B-) are also in fairly good condition. Within the past 10 years, the total railroad-related incidents in Mississippi have been reduced by half. Additionally, the state's rail system is fairly resilient. They also have sufficient capacity to support higher level of train operations.
Think it. Build it. Grow it. That's the Mississippi Way – the report's slogan, which emphasizes the need to invest in the state's infrastructure. Here are a few recommendations in the report that show how this can be done:
Establish a grant program for 21st century technical career training in the drinking water and wastewater sectors that retains Mississippi's talent and mainstreams tools for data-driven decision-making, such as asset management software, life-cycle cost analysis, and affordable rate structuring.
Ensure that infrastructure investment is strategically focused on efforts that maximize good-paying jobs, promote the state's economic competitiveness, and enhance usability so that all Mississippians continue to be proud to call our state home.
Design, operate, maintain, and expand infrastructure using consensus-based codes, specifications and standards that reduce the potential loss of jobs, economic opportunity, and critical natural resources, in accordance with federal leadership. Under President Trump's Administration, FEMA and other federal agencies have begun to pivot toward mitigation measures to ensure better use of taxpayer dollars, which is a strategy Mississippi should also employ.
Develop and disseminate a comprehensive education campaign on the true costs and savings associated with investment in critical infrastructure around the state through publicly accessible channels and platforms such as Mississippi Public Broadcasting and social media forums.
ASCE State and Regional Infrastructure Report Cards are modeled after the national Infrastructure Report Card, which gave America's infrastructure a grade of 'D+' in 2017.
A full copy of the Report Card for Mississippi's Infrastructure is available at www.InfrastructureReportCard.org/Mississippi.