October 21 marked the 6th annual Imagine a Day Without Water. As you begin each day with that cup of coffee, tea, or big glass of ice water, followed by a shower – and all the other ways you use water, you probably can't imagine your days without it. Well, some people don't need to imagine. In fact, two million Americans have lived without access to water. And yet, our drinking water infrastructure still remains a 'D,' citing around 240,000 water main breaks per year in the U.S. in ASCE's 2017 Infrastructure Report Card, while wastewater infrastructure is slightly higher at a 'D+.'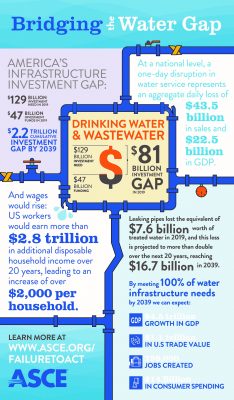 On Wednesday, ASCE staff, members, and over 1,000 organizations across the country advocated for water infrastructure on the 6th annual Imagine a Day Without Water, a national education campaign that brings together stakeholders to highlight how water is essential, invaluable, and in need of investment. ASCE and the Value of Water's recent report on The Economic Benefits of Investing in Water Infrastructure states that fully funding our water infrastructure needs would create 800,000 jobs and generate $2.8 trillion in additional household disposable income. Additionally – leaking water pipes lost the equivalent of $7.6 billion worth of treated water in 2019, a loss that is projected to more than double over the next 20 years, reaching $16.7 billion in 2039.
This year, ASCE members who work in drinking water and wastewater sectors participated in a short video, telling us about the state of our water infrastructure and warning us what will happen if we don't invest now. These members, who all serve on ASCE'S Committee on America's Infrastructure included Celine Heyer, P.E., Darren Olson, P.E., Ruwanka Parasinghe, EIT, and Rebecca Shelton, P.E.  Check out the video here.  
The COVID-19 pandemic has shaken the nation, and Americans have had to alter their lives to deal with this public health crisis. We were reminded just how important reliable water service is – and how we depend on it each day to protect ourselves, each other, and the economy. Washing your hands, not flushing wipes down the toilet, and staying healthy – these are constant reminders of this critical, vital resources on which we rely. But our water infrastructure is aging and in need of investment.
Not having water service is a public health and economic disaster. We know that renewing in our aging infrastructure will create jobs, protect public health, and avoid massive costs that will come if we allow these systems to deteriorate. As our recent economic report on water infrastructure notes, investing in water not only helps us resolve the existing infrastructure challenges, but provides a path towards the nation's economic recovery.
Our world would be very different without water. After all, 84% of Americans support increasing federal investment to rebuild our pipes, pumps, reservoirs, treatment plants, and other facilities – to ensure safe, reliable water service for all communities. View this video by Garney, painting a dire picture of a day without water and urging investment in infrastructure.
ASCE is a proud advocate of infrastructure investment and participant in Imagine a Day Without Water. To review social media from throughout the day from ASCE, Value of Water, and others, search #ValueWater on Twitter. Let's keep the conversation going beyond this week and urge our lawmakers to invest in our drinking water and wastewater infrastructure networks.