United for Infrastructure 2020, formerly known as 'Infrastructure Week,' looked a little different this year. Aside from a whole brand new name, branding, and hashtag (#RebuildBetter), this national week of advocacy went all virtual – for the first time ever – due to the ongoing COVID-19 pandemic. But that didn't stop our members, staff, partners, policymakers, and labor unions, and other infrastructure advocates from participating.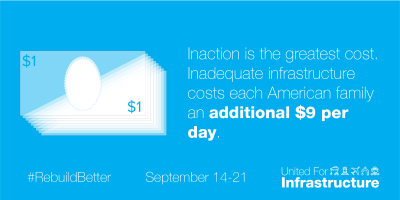 Now in its eighth year, ASCE members, sections, and leadership took part in this national week of events, media coverage, education, and issue advocacy – which is designed to elevate infrastructure as a critical issue impacting America's economy, society, security and future. ASCE is a founding member of the United for Infrastructure steering committee.
The theme this year was #RebuildBetter. As the nation grapples with a global pandemic and its health and economic impacts, as we confront systemic racism and inequality, as we consider access (or lack thereof) to jobs and opportunity – especially to our essential workers – and as we face threats from more severe hurricanes as well as wildfires and cyber-attacks, we look to our infrastructure to protect us now more than ever, and how we can #RebuildBetter. Here are a few events where ASCE was involved:
Monday Kickoff Event
Leaders from across the country discussed working to Rebuild Better from before COVID-19 and from the pandemic, including ASCE Executive Director Tom Smith, who highlighted findings from ASCE's recent electricity infrastructure report; ASCE Board Director and Washington State Department of Transportation Secretary of Transportation Roger Millar, P.E., who discussed infrastructure innovation and state budgetary constraints from the pandemic/rethinking transit and work; Siemens CEO Barbara Humpton; Los Angeles Mayor Eric Garcetti, Maryland Governor Larry Hogan, Chamber of Commerce CEO Tom Donohue, and more.
Arizona and Wisconsin State Report Card Releases
Arizona civil engineers gave the state's aviation, bridges, dams, drinking water, levees, rail, roads, transit, and wastewater systems a cumulative grade of a 'C,' citing major investments in the state's airports and resilience measures in drinking water systems, but much-needed investments for the state's roads, which are sitting in poor condition at  'D+.'
Meanwhile, Wisconsin civil engineers graded the state's aviation, bridges, dams, drinking water, energy, hazardous waste, inland waterways, ports, roads, solid waste, stormwater, transit, and wastewater systems a 'C.' The report cited investing heavily into the energy, hazardous waste, stormwater, and wastewater infrastructure, but that roads and transit are falling behind.
View the blogpost on the findings and recommendations here.
Route Fifty's Future Cities: Government's Inside Track to 2002: Infrastructure
ASCE's Managing Director Emily Feenstra spoke on a panel about how cities make economically sound development decisions, while prioritizing resilience and infusing equity, focusing on ASCE's standards that provide technical guidelines for promoting safety, reliability, productivity, and efficiency in civil engineering.
Future Proofing America's Infrastructure for a Changing World
To close off the week, ASCE Chief Strategy and Operating Officer Jerry Buckwalter spoke about ASCE's Future World Vision initiative during a fireside chat called Future World Vision 2050 with Robert Puentes, President and CEO for the Eno Center for Transportation. This portion was part of the last event, Future Proofing America's Infrastructure for a Changing World.
It's important to recognize that as we work to #RebuildBetter, everyone should have a seat at the table. While this national week of advocacy may be coming to a close, it's up to all of us and Congress to ensure all Americans have equal access to water, transportation, and sound policy that creates jobs so we can recover quickly.