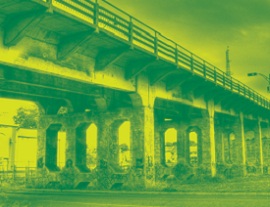 "Transportation Funding" was named a top 5 issue by The Council on State Governments for the 2016 legislative session. However, unlike the eight states who raised the gas tax in 2015 (Georgia, Idaho, Iowa, Michigan, Nebraska, South Dakota, Utah and Washington) we have seen few states make the leap toward investing in infrastructure in 2016.
The first state to sign a major infrastructure funding bill into law this session is Rhode Island. The Rhode Works program aims to raise revenue that will allow the state to rebuild roads and bridges making Rhode Island more attractive to businesses. By assessing user fees to large commercial trucks it becomes the last northeastern state to adopt this revenue stream. Rhode Island Department of Transportation is hopeful the additional revenue will help them leverage federal dollars and enable the state to tackle maintenance and rehabilitation projects that will bring additional jobs.
While Rhode Island has already taken action, ASCE is keeping a close eye on many of the states that appear on CSG's "States to Watch" list. Here is an overview of what we're watching around the country:
We also expect to see proposals from Minnesota and Louisiana, which have not yet convened their regular sessions. Whether it is a gas tax, vehicle miles traveled, or public-private partnerships, ASCE supports an all options on the table approach to ensuring transportation infrastructure receives adequate funding.