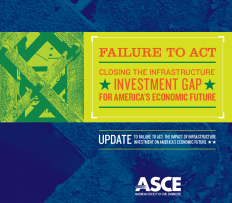 Today's release of the American Society of Civil Engineers' Failure to Act: Closing the Investment Gap for America's Economic Future reveals that inadequate infrastructure is costing every American family $3,400 a year in disposable income.
The economic study, an update to the initial series ASCE released prior to the 2013 Report Card, identifies the 10-year needs across 10 categories of infrastructure is $3.3 trillion, including a $1.4 trillion investment gap.
The $1.4 trillion investment gap comprises:
$1.1 trillion throughout the surface transportation network including roads, bridges, transit, and commuter rail.
Electricity infrastructure requires an additional $177 billion.
The third highest investment gap is $105 billion for water and wastewater infrastructure. 
Airports, including the highly anticipated NextGen technology upgrade, require an added $42 billion.
America's inland waterways and ports need an additional $15 billion to close their funding gap.
Our overdue infrastructure bill is costing us time and money. The report identifies the following economic ramifications:
$3.9 trillion in GDP, more than the 2013 GDP of Germany
$7 trillion of business sales
2.5 million job losses in the year 2025
$3,400 in a family's annual disposable income each year from 2016 to 2025, equal to $9.33 a day.
These findings underscore the findings of the initial Failure to Act series, showing the economic benefits of infrastructure investment reverberate through every sector of the economy, while the economic losses that come from deferred investment also become worse over time. Furthermore, the longer we delay the more likely we are to need to replace the infrastructure rather than repair it.
America is currently spending more failing to act on our investment gap then we would to close it. Inefficient infrastructure is costing every household $9.30 a day. However, if every family instead invested an additional $3 a day per household, we could close the infrastructure investment gap in 10 years.
By increasing the investment by $144 billion a year for the next 10 years at the federal, state and local levels, we can upgrade our infrastructure, and protect our GDP, jobs, families' disposable income and our nation's competitiveness.