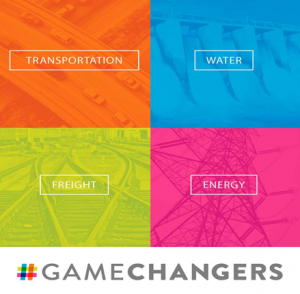 The challenges our infrastructure faces are chronicled frequently on this blog and in the media. The Highway Trust Fund heading toward insolvency (again). Water main breaks occurring every two minutes. Congested roadways causing us each to lose time and waste gas.
But that's only half the story. Today, we released our new Infrastructure #GameChangers report, which identifies the top trends in energy, freight, transportation and water that are transforming the way infrastructure is designed, planned, and built.
The communities that chose to make the investment across the country are reaping the benefits, by preparing for tomorrow's challenges and positioning themselves for economic growth.
Here are some of the trends explored in the report:
Transportation
Ridesharing and transit apps
Robotic inspections
Bus rapid transit
Smart parking systems
Accelerated bridge construction
Energy
LiDAR

and drone technology
Integrating renewables
Preparing for blackouts with resilience
Water
Extracting energy from waste
Recycled and reclaimed water
Desalinated water
Freight
Public-private partnerships for inland waterways
Preparing for the Panama Canal expansion
Check out these and many others at ASCEgamechangers.org. Then be sure to share your favorite on social media using #GameChangers. And if you know of an innovation we've missed, tell us about it to include in future updates.