The American Society of Civil Engineers (ASCE) held a Capitol Hill briefing on Tuesday to examine resiliency in Puerto Rico two years after Hurricane Maria. In his opening remarks, ASCE's Executive Director Tom Smith, ENV.SP., CAE, F.ASCE stressed that building resilient infrastructure was in the best interest of the American taxpayer, as every dollar spent on pre-disaster mitigation and preparedness saves $6 in rebuilding costs after a storm. With limited funding available, designing and building resilient infrastructure is ensuring that our investments last.
Congresswoman Jenniffer González-Colón (R-PR) joined the briefing to offer an overview of the island's infrastructure challenges. She also applauded the Transportation & Infrastructure Committee, of which she is a member, for passing her amendment to the Stafford Act that governs emergency response. Gonzalez-Colon's amendment redefines critical services to include first responders, public housing, solid waste management, and port and surface transportation systems including access roads to hospitals. HR 2242 will maximize FEMA's impact to better assistant in the recovery process.
A panel discussed targeted solutions to improving the resiliency of Puerto Rico's infrastructure. Otto Lynch P.E., F.SEI, F.ASCE, President & CEO, of Power Line Systems, focused his opening remarks on ASCE's Standards and Manuals of Practices (MoPs). Specifically, Otto recommended the Puerto Rico grid be rebuilt to ASCE 7 standards which address minimum design loads for buildings and other structures for loadings such as wind, ice, snow, flood, and seismic loadings. Doing so will help ensure poles and lines can function better in the instance of a major storm and that vulnerable residents and populations can access reliable electricity. Citing a recent example, Otto noted that every pole stayed standing on a 22-mile line that was designed to ASCE standards on Grand Bahama during Hurricane Dorian, a Category 5 storm that sat over the island for 36 hours.
Hector Colón De La Cruz A.M.ASCE, Chair of the Puerto Rico Report Card, emphasized that Puerto Rico's solid waste infrastructure is under significant strain. The U.S. Environmental Protection Agency found in 2018 that there is less than five years of remaining capacity at active landfills across the island. Additionally, less than half of the landfills in Puerto Rico are compliant with federal standards. Hector noted that insufficient operation practices and a lack of compliance assistance means that solid waste facilities pose a risk to the public and environmental safety. Looking ahead, Puerto Rico needs workforce training and funding to help bring facilities into compliance with EPA standards. This may be achieved by creating and funding compliance assistance, training and recruiting programs in a short and long term.
Josefa Torres-Olivo, District III Director, U.S. Virgin Islands and Puerto Rico, Rural Community Assistance Partnership, joined the panel to talk about challenges encountered by rural communities on the island. For the most part, federal agencies require a community to be incorporated in order to receive federal aid. Many remote communities in Puerto Rico are not incorporated, not to mention lack internet access needed to apply for funding. The Rural Community Assistance Partnership helps to bridge the technical knowledge gap in these communities but urges federal agencies to make exemptions that would better allow for disbursement of funds to vulnerable and impoverished communities.
The hearing took place shortly after a magnitude 6.0 earthquake struck offshore of Puerto Rico. Fortunately, no damage or injuries were reported, but the incident was a reminder that rebuilding Puerto Rico resiliently should be an urgent priority. The Puerto Rico Infrastructure Report Card will be released in October 2019.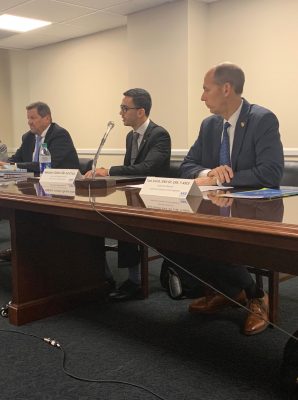 From left to right, Otto Lynch, Hector Colon De La Cruz, and Tom Smith