Advanced digital construction methods can save money and create many opportunities for small businesses. It's an exciting time for engineers, architects, and project managers as they look at new ways to build bridges, buildings, and other structures. New data and using digital models have caused construction sites to become safer and more efficient. However, only some construction projects are completed within 10% of their original budget, according to a KPMG survey. ASCE is at the forefront of new, data-driven technologies used in construction—projects that are completed using life-cycle cost analysis, virtual design, asset management systems, and more.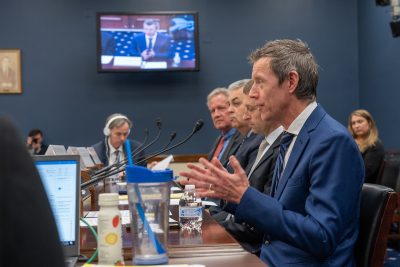 On November 19, the Committee on Small Business Subcommittee on Contracting and Infrastructure held a hearing called "Smart Construction: Increasing Opportunities for Small Businesses in Infrastructure."  ASCE Construction Institute member Lennart Andersson, RA and Director of Virtual Design, Construction & Operations (VDCO), LiRo Group testified on behalf of ASCE.
Subcommittee Chairman Jared Golden echoed the "D+" infrastructure grade and the need to focus on a stronger infrastructure agenda, but that we must be looking to modernize more than roads and bridges – we need to ensure the nation has modern, safe, and most efficient infrastructure, and that we are using the internet of things, artificial intelligence, cloud computing, and more, and that investing in digital tools can help small businesses to write lower bids and compete for larger projects.
To support this notion, Andersson highlighted the rapidly changing pace of the phases of construction, by incorporating traditional tools of the trade and new technologies that could transform the way projects are completed. Specifically, he stated, "the industry has a lot to gain with these new and innovative technologies so that we can build better buildings, infrastructure, and communities." The focus of his testimony was on the essence of virtual design in construction, as it creates a simulation of a project, creates budgets and schedules while projects go through funding approval, and access a single repository for all project scope and design documentation. The hearing, which involved witnesses from Cold Springs Construction, Construction Solutions Group, and STACK Construction Technologies, in addition to ASCE, emphasized Building Information Modeling (BIM) in project building, as it increases transparency, collaboration, and envisions a project before construction starts.
Painting a picture of virtual design and BIM in a project, Andersson spoke about his work on the For East Side Access, a new station underneath Grand Central Terminal, where only four people were needed to model and code what is considered the largest BIM project in the world. "By applying automated reality capture and digitization of documentation, processes, and common-sense standards, it is possible to realize the digital twin of infrastructure before construction," Andersson argued.
Andersson answered questions on life-cycle cost analysis with today's infrastructure, stressed the need to embrace and incorporate new approaches, materials, and technologies to ensure our infrastructure is more resilient, and other examples of innovation. The engineering community is committed to improving innovation within the industry. The ASCE Grand Challenge is a commitment to rethink what's possible in our industry. The goal is to work towards reducing infrastructure life-cycle costs by 50% by 2025. This can be done by focusing on four main areas: resilience, life-cycle cost analysis, innovation, and performance-based standards.
This week's hearing is part of ASCE's mission to highlight the state of our nation's infrastructure and the need for robust and broad legislation. In just the last 18 months, ASCE has testified seven times Capitol Hill on infrastructure issues, including appearances before Committees not usually associated with infrastructure, such as the House Budget Committee, House Way and Means Committee and the House Small Business Committee.