As the money from the Bipartisan Infrastructure Law makes its way into communities across America, the engineering, manufacturing, and construction industries are doing everything they can to ensure all Americans see the benefits of this once-in-a-generation legislation to improve the roads, bridges, water pipelines, and other infrastructure systems Americans rely on every day.
One key to successful implementation is ensuring there are workers to design and build those systems. The civil engineering profession currently faces a worker shortage, and the vast percentage of experienced engineers expected to retire within the next 10 years – or "Silver Tsunami" as some have called it – will only exacerbate the issue. The companies and government agencies that help build and maintain America's infrastructure are working to develop solutions to retain the current workforce and draw in future engineers.
As part of Infrastructure Week, ASCE held two panels with leading industry and government experts on finding solutions as the infrastructure workforce evolves.
The first panel, Recruiting & Retaining Today's Infrastructure Workforce, focused on recruiting and retaining the infrastructure workforce. ASCE President Maria Lehman, who led the conversation, called workforce challenges "the 800-pound gorilla in the room" as the public and private sector deal with increasing competition for workers and a growing number of employees retiring after successful careers.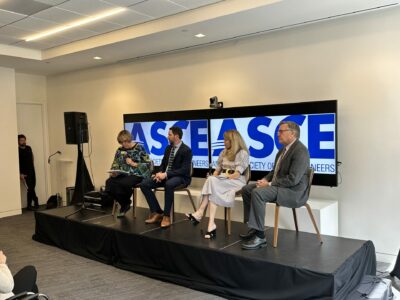 Panelist Anna Enrich with Nucor talked about her company's apprenticeship programs, where workers are split between education and work experience to help them develop their skills. They say these programs have helped create a pipeline of workers to further their careers. Other solutions discussed during the forum included co-op programs for students considering infrastructure careers and allowing flexibility using Pell Grants and 529 funds for vocational programs.
The forum also discussed workplace culture and ensuring the infrastructure workforce feels valued and appreciated.
Panelists included:
Bill Hanson, Sr. Vice President, Government Relations & Business Development, Great Lakes Dredge & Dock
Tom Curtin, Program Director, Infrastructure, National Governors Association
Anna Ehrich, Director, Federal Government Affairs, Nucor Corporation
The second panel, Growing the Pipeline for the Digital Transformation, focused on the digital transformation of engineering and infrastructure work and growing the pipeline.
ASCE President-Elect Marsia Geldert-Murphey talked about her work mentoring future engineers at the high school level and the exciting opportunities for them in the industry.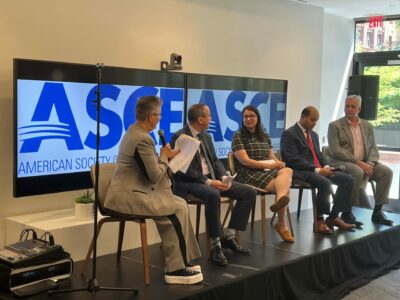 The second panel discussed the evolution of infrastructure work and technology. As new engineers enter the workforce, they may have skills their future employers are not utilizing already. Employers must consider these skills in addition to how to make jobs more exciting with new technology for workers who have been immersed in modern technology from a very young age. They also discussed sharing best practices for new technology and collaboration between the private and public sectors at all levels moving forward.
The panel also discussed the importance of sharing industry successes to encourage people to pursue careers in engineering, manufacturing, and construction.
Other speakers on the panel included:
Ted Whiton – Executive General Manager, Americas for GHD
Abigail Campbell Singer, Sr. Director and Head of Climate and Infrastructure Policy, Siemens
Sunil Dorairajan, Sr. Director Construction Industry Strategy, Autodesk
Rob Puentes, President & CEO, Eno Center for Transportation